Great actor👍💖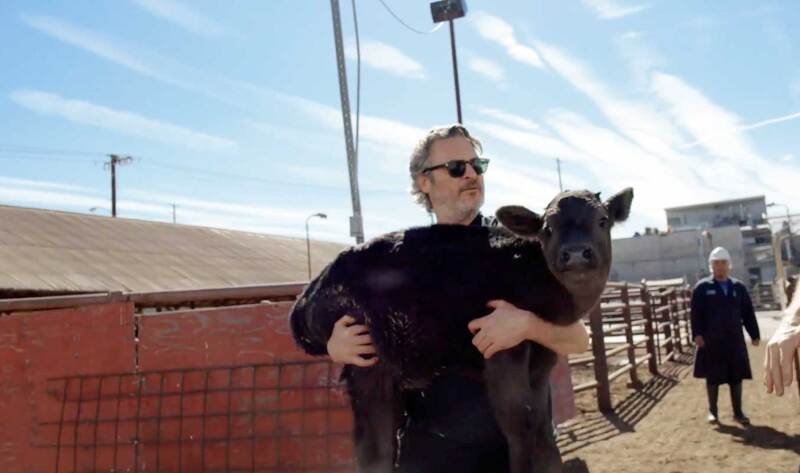 The award-winning actor puts his powerful Oscars speech into action by rescuing mother cow Liberty and her baby Indigo from certain death, allowing them to live out their lives at Farm Sanctuary.
Actor and vegan activist Joaquin Phoenix recently saved a cow and her week-old daughter from being killed at slaughterhouse Manning Beef in California. Phoenix negotiated the release of the animals from the slaughterhouse alongside a group that included fiancée and fellow activist Rooney Mara, both his and Mara's mothers, Earthlings director Shaun Monson, Los Angeles Animal Save Founder Amy Jean Davis, and Farm Sanctuary President and Co-founder Gene Baur.
In a short documentary of the rescue created by Monson, Phoenix speaks to slaughterhouse owner Anthony DiMaria. To clarify, Phoenix says that the cows at the facility are purchased to be murdered.
The group successfully removes the cow and calf—whom Phoenix named Liberty and Indigo, respectively—from the slaughterhouse and transports them to the Acton, CA location of Farm Sanctuary, where they will live together in peace alongside other rescued farmed animals.
Phoenix said about the experience: My hope is, as we watch baby Indigo grow up with her mom Liberty at Farm Sanctuary, that we'll always remember that friendships can emerge in the most unexpected places; and no matter our differences, kindness and compassion should rule everything around us.
The rescue is a real world example that illustrates animal cruelty Phoenix discussed on stage while accepting his Oscar for best actor during the 92nd Annual Academy Awards earlier this month. Phoenix ended his Oscar acceptance speech with a quote from his late brother River Phoenix: Run to the rescue with love—and peace will follow.
Finally someone who actually does something to help the animals. Great story in a World with so much cruelty. Thank you for saving lives!!
Watch the precious video below:
SHARE this Precious story with your friends and family!