Kuno is a true hero 💖💖💕🙏
Hopefully the rest of your life can be spent doing all the things you love with those people you love and who love you.
The retired British Army Working Dog suffered life-changing in.ju.ries when supporting the British special for.ces figh.ting Al Qaeda.
During a r.a.i.d, Kuno tackled a gu.nman and was hit by bu.ll.ets in both back legs. After lo.si.ng one of his paws, as a result, he became the first UK military dog to get custom-made prosthetics.
He has now been awarded the Dickin Medal, the highest award any animal can receive within the British military.
That's the human equivalent of winning the Victoria Cross, the UK's version of the Medal of Honor.
He performed his duty without faltering
For this bravery and devotion to duty, we are honored to welcome him as the latest recipient of the PDSA Dickin.
Vets had to am.pu.tate part of one of his rear paws to prevent a life-th.rea.te.ning in.fe.ct.ion from taking hold and then underwent extensive reconstructive surgery.
Just like in.ju.red soldiers, Kuno began a lengthy rehabilitation programme to restore function to his nerves and muscles and is said to have particularly enjoyed his sessions on the hydrotherapy treadmill.
Happily, the hero dog has since made a full recovery from his surgery and has become the first U.K. Military Working Dog to be fitted with custom-made prosthetic limbs.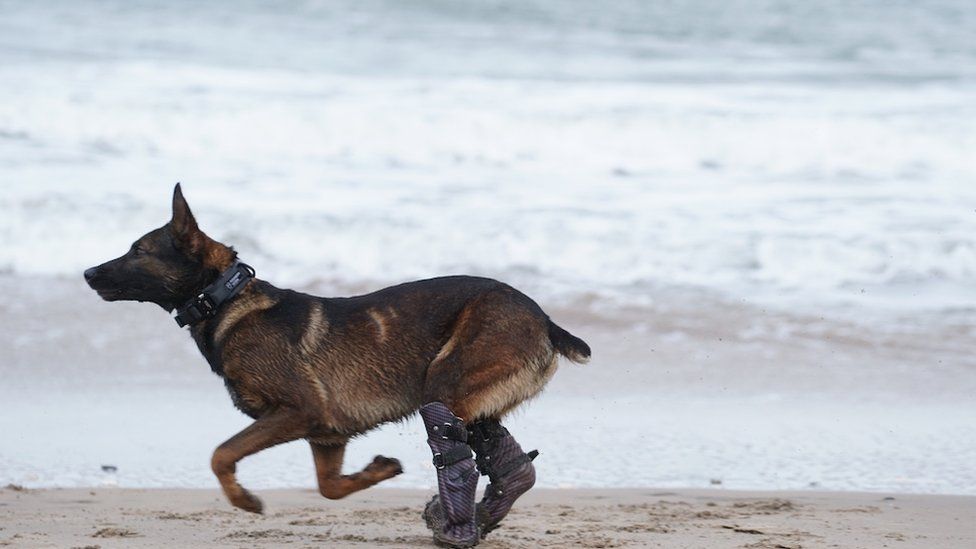 I am very proud of the role our military working dogs play on operations at home and abroad. Kuno's story reminds us of the lengths these animals go to keep us all safe.
Kuno is the 72nd recipient of the Dickin Medal since it was created in December 1943, at the height of World War II.
Bless him, Kuno, what a hero! Time to take a rest dear boy, you have done your very best for your fellow servicemen and women, thank you for your wonderful bravery in the face of fire, you deserve a wonderful retirement now…
May your retirement be happy, healthy and loved.💖💖Happy days for the rest of your life.💙💙💖💕🙏
Source: kingdomstv
Please SHARE this together with your family and friends…Thanks!💙