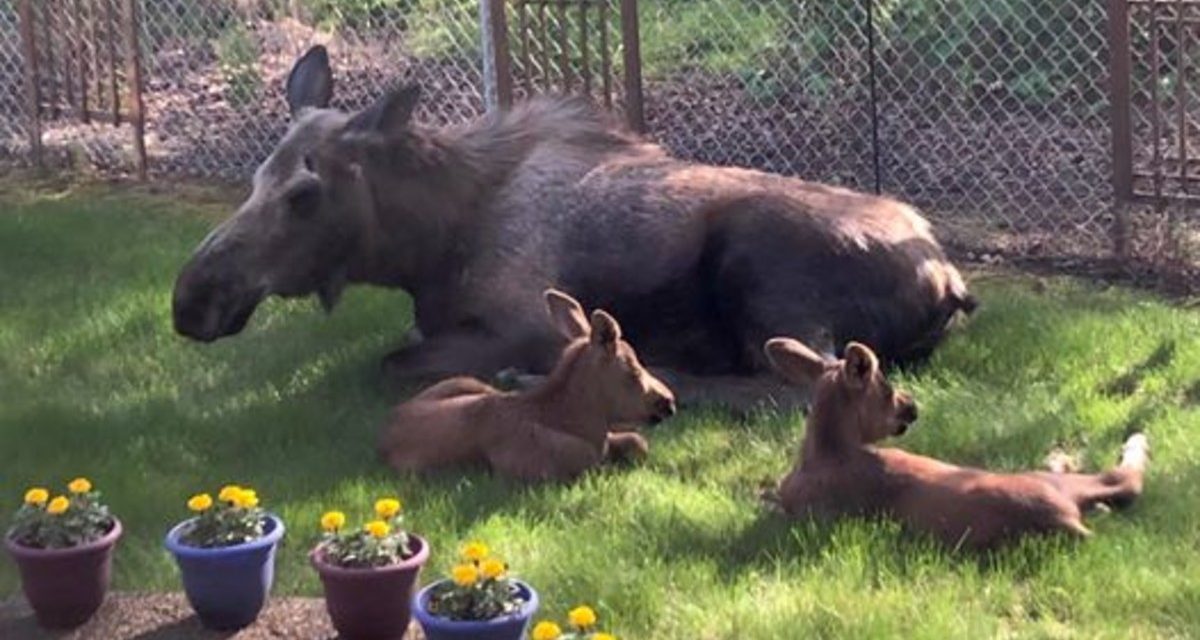 During the pandemic, we were all locked in our homes, there was no movement on the streets, and we did all the work from our homes. For many, it is an opportunity to get to know their neighbors better, human, and nonhuman.
Roland Rydstrom from Anchorage, Alaska, just had a few uninvited guests pop over to his place; last week, a mama moose and her two calves came over to his backyard. If that wasn't enough, the moose liked Rydstrom's grass so much, they decided to spend the day there.
Sometimes the most incredible scenes of wildlife can be found in your own backyard. If you're lucky, sometimes friendly animals pay you a visit.
Roland Rydstrom posted the pictures on Facebook. Rydstrom jokingly wrote: "The view outside my Covid home office is better than yours today," which is probably true for most of us. The family consisted of one adult moose with his two adorable baby calves. The trio enjoyed their day, lying in the warm sun next to the man's flower pots. This soon proved itself as being quite the problem.
Unintentionally, of course, one of the baby calves knocked over a few of the man's flower pots. Thankfully, after the "sociopathic, marigold-hating baby moose," cleared the scene, the man was able to restore the pots to their original form.
While this sight might appear unique to most of us, for the residents of Anchorage, it's quite a common one. "It's very, very common to see moose in our backyard as it is on the normal 'loop' for the moose who hang out in our neighborhood." Rydstrom wrote in his post.
Rydstrom doesn't really have the right to complain. After all, the view he gets from his kitchen window is way better than that of the vast majority of the world.
"And just like that, the marigold is knocked over and that baby pretends it didn't have a thing to do with it…"
The calves spent a lot of time lounging together. It was cute seeing them lying together and moving with the sun throughout the day
Rydstrom made the right call by staying inside to photograph the moose family that visited him. Moose are generally not aggressive animals, but they can become incredibly dangerous when provoked. Female moose will not think twice about engaging a person if she thinks they're threatening her young.
Please SHARE this with your friends and family.